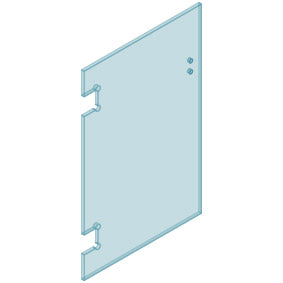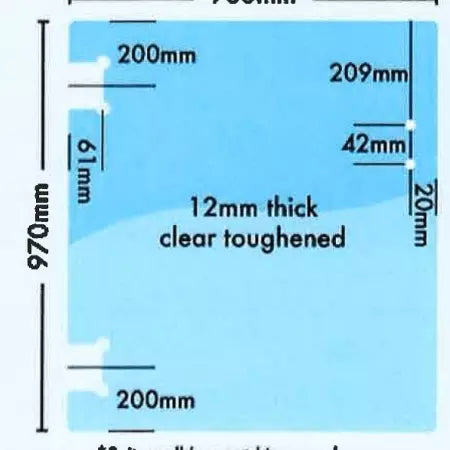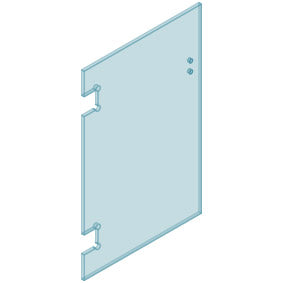 12mm Clear Toughened Heat Soaked Glass - POLARIS PREMIUM Wall/Post GATE - 900mmW x 970mmH
Stocked at:
Brisbane (Virginia)
Gold Coast (Molendinar)
Melbourne (Derrimut or Dandenong South)
Newcastle (Cardiff)
Adelaide (Kilburn)
Perth (Jandakot)
DELIVERY AND PICK UP INFORMATION
20 depots across Australia are now fully operational.
Check individual listings for which products are stocked in which locations.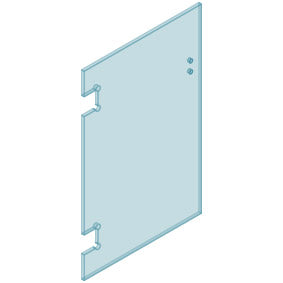 12mm Clear Toughened Heat Soaked Glass - POLARIS PREMIUM Wall/Post GATE - 900mmW x 970mmH
Thickness:  12mm
Corner Radius: 2mm
Superior Edgework and Glass Quality 
Height: 970mm
Suits our Polaris 125 Soft close Hinges
Heat Soaking is an extra processing step that takes place after the glass is toughened. Glass is put in special racks and placed in a heat soak oven which heats up the panels to a certain temperature, holding this temperature for some hours, and cooling again to room temperature. This test seeks to induce breakage in the oven of any panel with NiS inclusion and hence reduce the chance of on-site breakages. Glass Outlet utilizes a heat soak oven meeting the requirements of BS EN 14179-1:2005. Please check with relevant Building Code of Australia regulations and/or Australian Standards regarding specific requirements for heat-soaked tempered glass.
Ensure regulations are met with regards to glass type and fixing type, new glass balustrade code came into affect 1st May 2023, if in doubt check with your certifier. 
Available for local delivery only or collection 
Free collection from Gold Coast, Brisbane, Adelaide, Melbourne or  Cardiff 
Delivery is to the below areas only, See delivery and collection maps
Sunshine Coast, (as far north as Noosa)
Brisbane metro
Gold Coast
Northern Rivers, (north of Ballina)
Tweed 
Melbourne metro
Adelaide metro
Cardiff metro, 
Not available in Perth

If outside of these areas please ask.
https://www.glasshouseau.com/pages/delivery-and-pick-up-information