80x40x3mm Aluminium Deck Joist with extended bottom flange leg - 5500mm long
Stocked at:
Brisbane (Virginia)
Gold Coast (Molendinar)
Melbourne (Derrimut or Dandenong South
Newcastle (Cardiff)
Adelaide (Kilburn)
Perth (Jandakot)
DELIVERY AND PICK UP INFORMATION
20 depots across Australia are now fully operational.
Check individual listings for which products are stocked in which locations.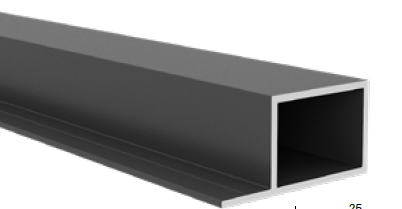 80x40x3mm Aluminium Deck Joist with extended bottom flange leg - 5500mm long
• 80x40x3mm aluminium joist featuring a 25mm

extended leg: alloy 6060 T6
• 5500mm long powder coated satin black
• Aluminium joist is anchored directly to
concrete floor or other suitable substrate
through extended leg. Deck jacks are not used
with extended flange leg aluminium joist.
• Most decking products including genuine
timber and composites make it mandatory to
lay decking boards with a specified minimum
distance above the floor/substrate. This
aluminium joist enables installation with a
minimum height of 40mm.
• Typically joists spaced apart at 450mm centres.
• As joist is affixed directly to floor/substrate, it
can withstand very high loads.
• Use appropriate anchors (sold separately)
having regard to floor/substrate
***Contact us for Certificate of Compliance
for design capacities of extruded aluminium
joists referencing AS/NZS 1170.0:2002 ; AS/
NZS 1170.1:2002; AS/NZS 1664.1:1997 and
NC2019***
Free collection from Gold Coast, Brisbane, Adelaide, Melbourne, Cardiff or Perth
Delivery is to the below areas only, 
Sunshine Coast, (as far north as Noosa)
Brisbane metro
Gold Coast
Northern Rivers, (north of Ballina)
Tweed 
Melbourne metro
Adelaide metro
Cardiff metro, 
Perth metro
If outside of these areas please ask.