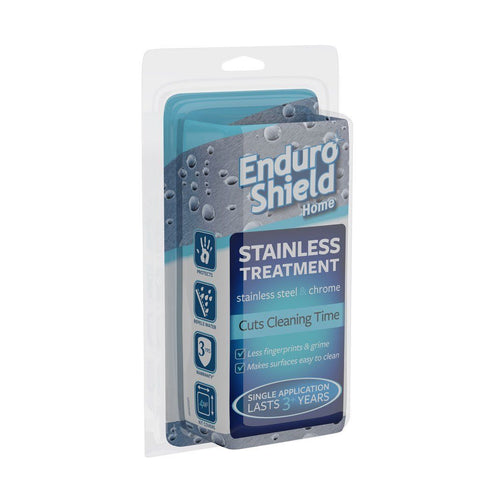 Enduroshield Stainless Steel Treatment Kit, 60ml
Stocked at:
Brisbane (Virginia)
Gold Coast (Molendinar)
Melbourne (Derrimut or Dandenong South)
Newcastle (Cardiff)
Adelaide (Kilburn)
Perth (Jandakot)
DELIVERY AND PICK UP INFORMATION
20 depots across Australia are now fully operational.
Check individual listings for which products are stocked in which locations.
60ml's Covers up to 4 Sqm's. One application lasts 3+ years 
EnduroShield Home is an Easy Clean surface treatment for Stainless Steel and Chrome that is both water AND oil repellent. A single application lasts beyond 3 years and cuts cleaning time by up to 90%. Suitable for all indoor and outdoor Stainless steel surfaces including new or existing appliances, railings, wall panels, sinks and bench tops.
EnduroShield Home is the consumer strength version of the market leading factory applied professional EnduroShield. 
Application is simple: clean the surface, then spray and wipe the EnduroShield liquid into the surface. That's it! Full instructions inside kit.
 EnduroShield not only creates an Easy Clean surface, but repels, significantly reducing the amount of finger prints and tea staining that occurs.
The easy clean surface makes for easy removal of grime and fingerprints. Cleaning with the damp microfibre or with warm soapy water is sufficient for most indoor appliances!
If you have heavy existing stains, for best results polishing the surface with a stainless steel strip formulation will provide best results.
Kit cleans and treats up to 4 square metres of Stainless Steel, Chrome or certain types of Aluminium
Invisible Easy Clean surface treatment that is water AND oil repellent.
Cuts cleaning time by up to 90%
Single application lasts beyond 3 years and is backed by a 3 year limited warranty
Works on all indoor & outdoor Stainless Steel & Chrome surfaces (new or existing)
Repels hard water, grime, reduces finger prints and tea staining.
Surface stays cleaner for longer between cleans
Saves money on chemicals – only requires cleaning with a microfibre and a mild detergent
2 Simple Steps - Clean and Apply
Kit covers up to 4 sqm's